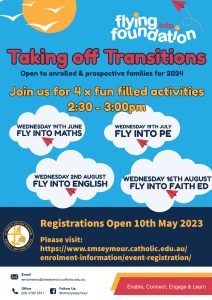 Primary Transition Sessions x 4
Flying in Foundation welcome prospective families to attend our "Taking Off Transitions".
These short fun filled sessions allow students a taster of our various subjects in different spaces in the school.
Each child will have a "passport" to complete in each session to show where they have "travelled".
Families are to check in at the Office upon arrival, sessions will conclude at 3:00pm
If you have any queries please contact the Office on 5792 2611 or enrolments@smseymour.catholic.edu.au
We look forward to seeing you – SMC