Is your child "Flying from Kinder in 2021 into Foundation in 2022?
At St Mary's College, we believe the child's journey into Foundation begins with building relationships with students and their families by inviting them to participate in our Transition Program 'Flying into Foundation'.
Our upcoming MINI sessions are short, sharp and will give you a taste of what to expect at St Mary's College. We are inviting ALL families (whether you are enrolled or prospective) to attend these sessions.
In previous years, our mini sessions have been extremely successful. Children were able to come in and see the different areas of our wonderful College including the Foundation classrooms, the Multipurpose Hall and the Library. It is a fantastic opportunity for parents to ask questions, meet the staff and see the College. In turn, it allows the children to experience exposure to school life and builds confidence, a feeling of safety and connectedness.
We hope to see you there!
COVID UPDATE: We would normally begin our journey with your child by visiting the local kindergartens, unfortunately, this has not been possible this year. Please note all the dates listed below are pending Covid restrictions. To enable us to notify you of any cancellations, please click here to register. 
Details of our Transition Program follow:
Term 3
Come along to our mini sessions to get your passport into Foundation
Mini Sessions 9:00am-9:30am 
Friday 30 July Cancelled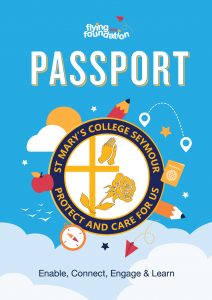 Friday 13 August  Cancelled
Friday 27 August
Friday 10 September
Term 4
Information Evening
Tuesday 12 October
**Transition Days
Tuesday 19 October (9:00am – 10:30am)
Wednesday 3 November (9:00am – 11.:30am)
Tuesday 16 November (9:00am – 1:00pm)
Tuesday 7 December Orientation Day – (Whole Day)
**Further information regarding these days will be released closer to the dates.
For any enquiries, please telephone Gail Strahan, Office Manager/Enrolments Registrar on 5792 2611 or email as follows:
Office Manager/Enrolments Registrar, Gail Strahan  – enrolments@smsemyour.catholic.edu.au
Foundation-Year 6 Pastoral Care Coordinator, Anne Spencer – anne.spencer@smseymour.catholic.edu.au
Click the image to download an enrolment form.

Year 7 Information