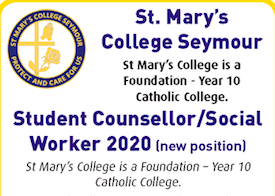 St Mary's College invites applications from enthusiastic and committed Counsellors/Social Workers to join our wonderful College community. The position is part-time equivalent, fixed term with the possibility of becoming ongoing.
We welcome both experienced and graduate Counsellors/Social Workers to apply.
The role requires the counsellor/social worker to promote the College's Mercy Ethos and Values, create and build healthy and productive relationships with students, colleagues, parents and community members and facilitate the effective social, emotional and academic growth of students.
The successful applicant will possess excellent interpersonal skills, a willingness to be part of a committed team and have a demonstrated commitment to Catholic education and to the safety, wellbeing and inclusion of all children.
Please forward a resume, covering letter addressing the selection criteria and a completed application form to the Principal, Mr Wayne Smith principal@smseymour.catholic.edu.au by Friday 6 December 2019.
Please contact the Business Manager, Mrs Felicity Melville at the College on 5792 2611 for a detailed role description and an application form.
This school community promotes the safety, wellbeing and inclusion of all children.