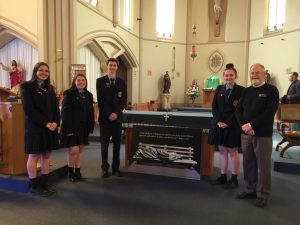 The Catholic school has a clear religious identity, operating in a context of Catholic faith and promoting the formation of students' identity in dialogue with that faith. How the members of the Catholic school pray, learn, celebrate, belong in community and reach out beyond that community are all expressions of its religious dimension.  (Horizons of Hope, CEM, 2016)
As a Catholic school, we are responsible for nurturing Christian values within our students, reflecting our Mercy heritage.  Our Catholic identity is enacted through our Religious Education curriculum. the Sacramental and Reflection Day programs, Prayer life, Social Justice initiatives and our links with parish and community.
St Mary's College is a welcoming Catholic community whereby our students, staff, families and wider community have the opportunity to participate in a variety of Catholic and Mercy ritual and traditions.